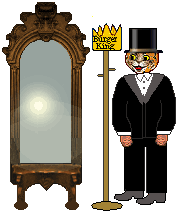 Red oriental rugs hugged the wooden floors and expensive oil paintings stood out from the walls. An old wooden ceiling fan hung from the center of the high stucco ceiling. It's blades lazily twirled round and round in slow motion and filled the room with eerie creaking sounds. In the far corner stood a gleaming brass coat-rack adorned with a black satin tuxedo, a top hat, and a carved ebony walking stick. Under it all stood four very pointy black lizard boots. King unfastened his cape and it fell to the floor. He removed the tuxedo from the coat-rack and slipped into it, all the while admiring his reflection in a massive mirror. Then he removed his Burger King Home of The Big Whopper crown and replaced it with the top hat.



I was appointed a chamber next to King's with a stately mahogany canopy bed. The walk-in closet housed furs, evening gowns, and glittery high-heeled slippers. Against the window stood a huge intricately carved oak dressing table with a tilt mirror and two deep drawers. Its surface was covered with antique perfume bottles filled with costly French perfumes. In the center stood a vase of crimson carnations. King opened the closet, pointed to the garments inside, and instructed me to dress for dinner. "This once all belonged to grandmother, but now it is all yours, fancy feline. Dinner will be served at the clang of the bell."



My selection was a peach colored silk gown, a string of pearls, orange velvet evening slippers and a fox capelet. By the time I finished dressing I was so excited that I quickly forgot about my empty stomach. Posing in the mirror I smiled at my reflection. The soft shade of peach did wonders for my complexion, and the capelet was even more luxurious than my own coat. A bell rang three times. King entered, took my arm, and escorted me down a narrow corridor and through an arched doorway.


The stark white walls of the dining room were warmed by heavy oak furnishings of days gone bye. Its long carved table was covered with an off white linen cloth which, in turn, was covered with fine china, delicate crystal goblets and tall vases of beige pussy willows. Groups of candles stood on either side of the mantle, their flames flickering strange textures on the walls. Between the candles hung a huge oil portrait of an elderly cat with big yellow eyes and bent whiskers. The inscription at the the bottom of the frame read "King Kat I."


King pulled a tall upholstered chair from the table. "Be seated, Fancy," he said. Two servants attired in black satin tuxedos entered the room carrying etched silver trays and began to fill our platters. A third servant entered and poured wine into the crystal goblets. "Tell me, King," I asked between forkfulls of lobster thermador, "how did you acquire all of this riches? And with all of this luxury, why do you hang around the Burger King trash can? And why do you wear the Burger King Home of the Big Whopper crown?"



"The internet, Fancy, I made my fortune selling CD's on the internet to the dead with instructions on how to revive themselves." "Why that is crazy, King! If someone is dead how can they play a CD?? And if these people are dead how can they even send you checks??" "I will share all of my secrets with you in time, Fancy. but for now, let's partake of the food and wine." "ESMERELDA, King ... my name is ESMERELDA!" I shouted.